Tokenization and trading of high-quality carbon credits, a market with momentum @ Crypto Assets Conference '22
Denise Duve from Blocksize Capital and Lucas Zaehringer from Verity gave an encouraging presentation on the market momentum of tokenization and trading of high-quality carbon credits.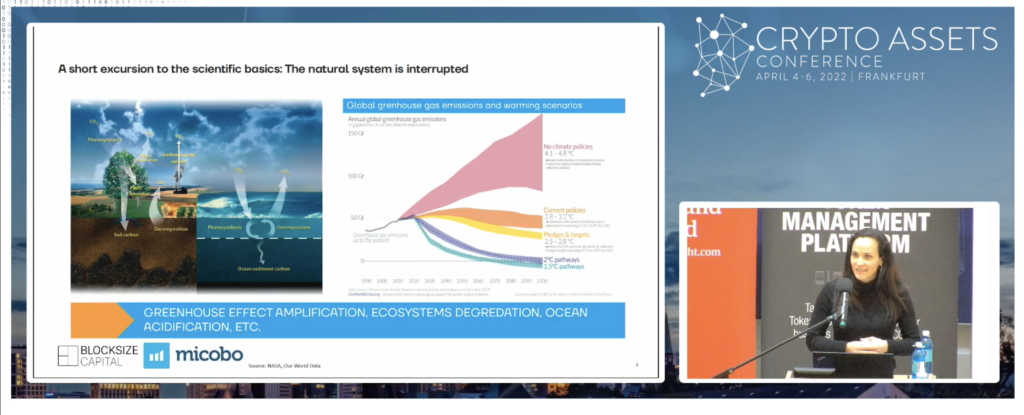 The panelists explained the current unprecedented case for tackling climate issues, with special relation to the EU aiming to become climate-neutral by 2050, along with the current market and investment readiness. But at the same time, nature and ecosystems were highlighted as the starting point to actually mobilize markets and finance for sustainability outcomes. This is the goal of  Verity, a verified and dedicated platform that tracks any value or attribute (tangible or intangible) throughout its lifecycle using distributed ledger and tokenization technologies. Verity's use case for Gevo tracked the carbon intensity of biofuels – the technology was developed in partnership with Verity, Blocksize Capital, and micobo. The project realizes the payoff of decarbonizing every step of the production process for advanced bio-based renewable fuels. Verity's platform can be used for tracking biofuels as well as natural gas, green hydrogen, and further sustainability assets.
Key Insights of the panel:

Tokenization supports the creation of "cradle to grave" CO2/ESG credits. By adopting blockchain, business logic and regulatory insights can be included in smart contracts enhancing transparency, automation, standardization, verification, compliance and ultimately assuring traceability along the value chain with the benefit of ownership. It means that project developers and participants in every system can monetize their ESG contributions.
Quality carbon credits can be created with blockchain technology. The efficient and accurate tracking throughout the supply chain contributes toward high-quality carbon credits/offsets. To define the quality of carbon credits and offsets the whole ecosystem needs to be covered and tracked.
Blockchain technology can integrate other measurement systems and technologies creating a robust ecosystem.
There is a need to adopt circular economy approaches and incentivize the use of green technology. On that note, the voluntary carbon market is facilitating the restoration of nature and emission reductions. It commoditizes CO2 emissions, brings together supply and demand, supports new technologies and it reduces marginal abatement costs. 
micobo GmbH is a leading European software company for Security Token Offerings and Blockchain Software Development (DLT). It provides fully compliant software solutions for Security Token Offerings and advises on structuring DLT- and Blockchain-based Securities. micobo empowers institutions with state-of-the-art technology focusing on providing a better customer experience and achieving measurable results.